How SkinPen Microneedling Works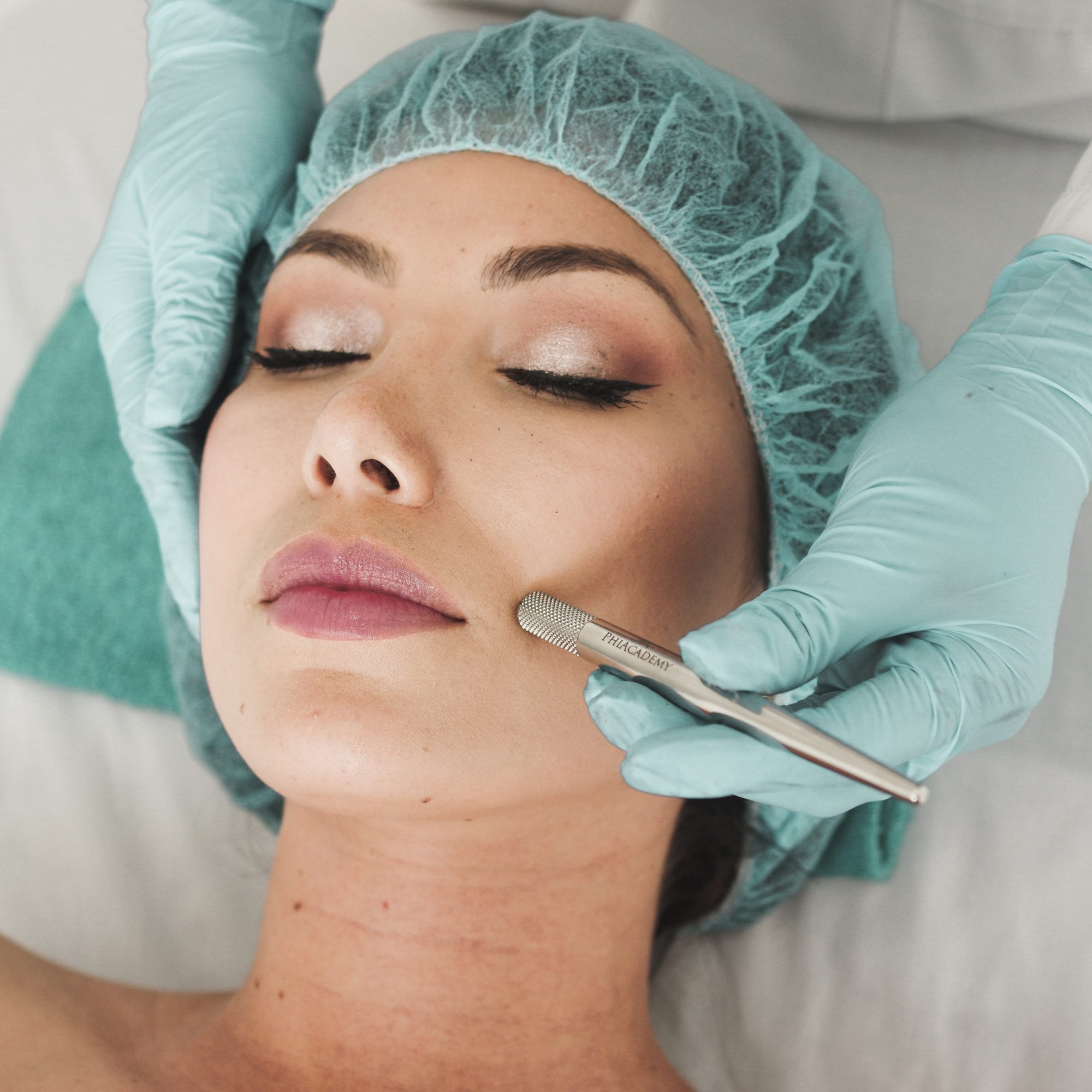 Microneedling is a minimally invasive cosmetic procedure that stimulates the body's natural collagen production in facial skin. Clients see a noticeable difference immediately after their first treatment and leave the office with refreshed and rejuvenated skin.
How Does Microneedling Work?
Microneedling can help counteract effects of aging on the skin with a handheld device called a SkinPen. Collagen production slows as we get older, and microneedling "reawakens" or triggers that production using very tiny needles.
The microneedles create micro-channels in the skin, which are like tiny furrows. The body responds to these micro-channels by increasing the collagen produced in order to "heal" the treatment area.
During this response, there are three phases of repair and healing that the body goes through:
Phase One: Inflammation 
The immune system is activated to cleanse the area and increase blood flow to create new tissue. 
Phase Two: Proliferation
New granulation cells rebuild the area, and a new network of blood vessels develops to carry vital nutrients to the area.
Phase Three: Remodeling
The area is refashioned with fresh dermal (skin) tissues that look bright, fresh, and taut.
Thanks to this three-step process, the skin regains and retains its elasticity. Pores are tighter, wrinkles and lines are noticeably reduced, and the overall complexion of the skin is healthier and markedly improved.
Can People with Skin Problems Get Microneedling?
Clients with a variety of skin issues see noticeable improvements in their skin immediately after treatment sessions. This includes hard-to-treat conditions that have been unsuccessfully treated at home. 
Some of the skin conditions that can be improved with this minimally invasive treatment include:
Poor complexion
Dull skin
Scars and acne
Hyperpigmentation and dark spots
Sunspots
Wrinkles and fine lines
Stretch marks
Excess skin from dramatic weight loss
Acne-prone skin
SkinPen microneedling is ideal for patients who are at least 22 years old. The revolutionary treatment is effective on all skin types and tones and clinically proven to improve the appearance of skin by effectively remodeling tissue while maintaining overall skin structure. SkinPen is the first microneedling device to be FDA-cleared.
Microneedling Benefits
This skin treatment is so effective because it relies on the natural regenerative ability of the body to boost collagen and improve skin. Some of the benefits that make this treatment so popular with men and women include:
Minimized hyperpigmentation
Faded dark spots and sunspots
Improved appearance of acne scarring
Reduction in the visibility of wrinkles and fine lines
Activated cell regeneration
Tighter, lifted, rejuvenated skin
There is little to no downtime associated with microneedling procedures, and it is natural and safe for all skin types. The SkinPen is easily tolerated, and a light numbing agent is applied to minimize discomfort. 
One of the biggest microneedling benefits is that it's an all-natural treatment, meaning it uses the patient's own body to produce results. There are no harsh chemicals involved and no surgery required.
What to Expect During a Microneedling Treatment Session
Generally, treatment begins with a facial cleanser applied before the microneedling step. 
When your face is sufficiently clean, your provider will move the SkinPen across the treatment area in a stamping motion. Once the entire area has been treated, nutrient-rich serums are applied to deeply hydrate and nourish the skin.
How Long Does It Last?
The duration of each treatment session depends on whether you are combining this procedure with other skin treatments. Typically, you can expect a session to last about as long as a facial (around one hour, give or take).
Combining SkinPen Microneedling with Other Treatments
Many patients combine this treatment with additional skin treatments, such as the PRP facial. The platelets in PRP contain a high concentration of growth factors, which enhances skin regeneration and healing. 
A PRP drip facial is a very effective way to enhance tissue repair at the sites of microchannels. Think of it as fertilizer that augments microneedling and encourages rapid healing.
How Long Do Results of SkinPen Microneedling Last?
Microneedling is considered a semi-permanent procedure, which means that results can last for months at a time. Patients begin to notice results right away, and those results gradually become more noticeable.
Immediately after a treatment session, your skin should look and feel plump, smooth, and soft, thanks to an immediate increase in oxygen and blood flow to the area. Scarring and wrinkles will usually show improvement gradually. It is often recommended that patients undergo three or four treatments in total that are spaced about one month apart. 
Should you notice that your skin could use another all-natural boost of collagen weeks or months after your session, you can schedule a follow-up treatment.
After Treatment: Healing and Skin Care
Following a treatment session, your skin may feel mildly sensitive for the rest of the day. Your skin may also look a bit flushed. This is totally normal and will dissipate after a few hours. Full healing takes two or three days. During this time, avoid harsh exfoliants and extensive exposure to the sun. 
You may also need to avoid skin-covering make-up products for a couple of days to allow your skin to breathe. When you notice that redness, irritation, and swelling are gone, your routines can return to normal. Drink lots of water to help keep your skin hydrated and use a gentle moisturizer. You'll notice that your skin soaks up any products significantly more after treatments.
Get Your Treatment
Microneedling is an effective treatment for men and women who want to naturally rejuvenate their skin and improve its health and appearance from the inside out. Glo & Spa-rkle Aesthetics and MedSpa is the place to go when you want to feed your skin what it needs to get back to health.