The Best Skin Treatment for Melasma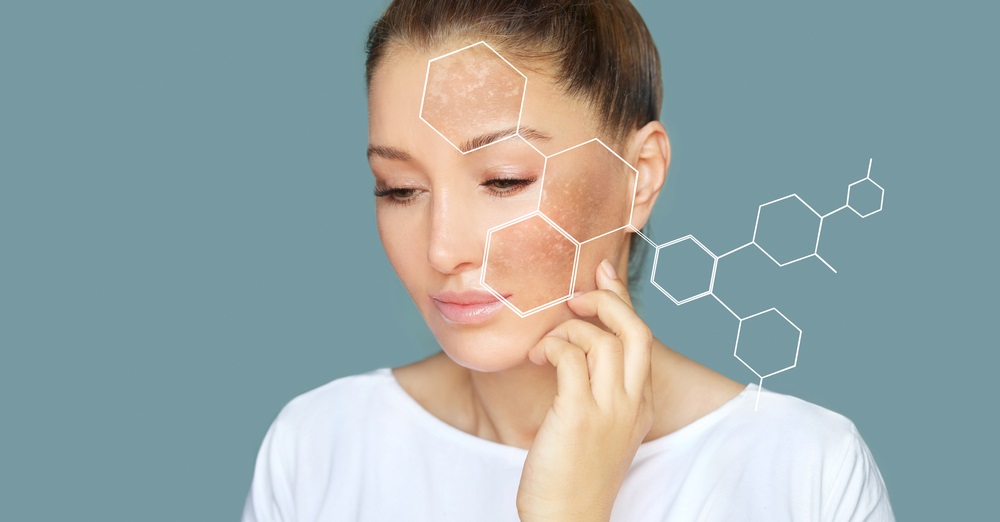 Melasma (hyperpigmentation) is a complicated skin condition; therefore, it requires comprehensive, tech-forward treatment that is safe and effective. 
Everyone has challenges with their skin. Some of these challenges can be simple to manage, such as small pigmentation concerns. But other conditions can be more challenging than everyday skin woes.
Patients with skin issues often want to improve complexions. Some patients worry about whether they will ever be able to overcome their skin challenges and achieve their dreams of finally attaining glowing, healthy skin. However, with the best skin treatment for melasma at Glo & Spa-rkle Aesthetics and MedSpa, it is possible.
We always offer our patients the very best and latest advanced treatments for skin conditions, and we know how to unlock beautiful skin with the right keys, whether with laser treatments, facials, or any other treatment we have available.
What Is Melasma?
Melasma is a fairly common type of skin condition that is characterized by bluish-grayish or brown-colored patches or spots on the skin. It occurs due to an overproduction of the cells that comprise the color of a person's skin. Although melasma is common and harmless, many patients do not like how it makes their skin look.
Treatments for melasma can encourage the spots on the skin to fade, even out, or even disappear altogether. 
For most patients, melasma appears as freckle-like spots or flat patches of color. It usually occurs on the face, including the forehead and the upper lip. It can also occur on the neck, back, and other areas of the arms (especially the forearms). Technically, melasma can appear on any parts of a person's skin exposed to sunlight regularly. 
This condition can often affect pregnant women, and as a result, melasma has earned the nickname "the mask of pregnancy."
Also known as hyperpigmentation, melasma can become more prominent in the summertime and can fade a bit during the winter. It can also darken or lighten over time.
The Three Types of Melasma
A person's skin is made up of three different layers: the epidermis, the dermis, and the subcutis. The epidermis, which is the outermost visible layer, contains specific cells called melanocytes. These skin cells are responsible for storing and producing a dark pigment called melanin. 
Melanocytes can react differently to heat, light, ultraviolet radiation, and even hormonal stimulation, causing them to produce more melanin and creating dark spots, areas, or patches. 
There are three different types of melasma: epidermal, dermal, and mixed. Treatment parameters can vary depending on which type a person has.
Epidermal melasma has a well-defined border and is dark brown in color. It often responds well to melasma skin treatments.
Dermal melasma is light brown or, sometimes, bluish in color. Its border is blurrier than epidermal melasma.
Mixed melasma is the most common form of melasma. It has both brown and blue or gray areas, with mixed borders that are well-defined in some places and blurrier in others.
It's important to note that melasma is not a sign of cancer; it is also not cancerous itself, nor will it develop into cancer.
Melasma Skin Treatment in Lubbock, TX
One of the most effective melasma treatment options ever developed is a specific type of laser skin treatment known as Neo Elite. This laser treatment has earned a reputation in the skincare industry as one of the best melasma treatments, thanks to its revolutionary technology and advanced delivery system. 
What makes this melasma treatment so excellent is that the high-powered pulses of energy it delivers are short yet advanced, with targeted precision. This enables the Neo Elite system to send treatment to focused areas of the skin. It's also safe for use with patients of all skin concerns and skin types. 
This melasma skin treatment is also popular because, unlike some other laser treatments that are much more invasive, Neo Elite does not require the use of any skin cooling products or topical numbing products before, during, or after use. 
We help patients feel naturally relaxed during treatment sessions, which can often be completed in 15-20 minutes.
What Else Can the Best Skin Treatment for Melasma Treat?
The Neo Elite is also very effective at treating many other skin conditions, some of which can commonly affect people who also have melasma. Some of these conditions include:
Spider veins and vascular lesions
Psoriasis
Fine lines and wrinkles
Lesions and scars
Acne
Ingrown hairs
Warts
Rosacea and redness
In addition, this treatment can be used on the skin located in almost any area of the body, including sensitive areas.
How Exactly Does the Melasma Treatment Work?
This particular melasma treatment works because of how its laser energy is emitted by the handheld device our team uses. The procedure and treatment work to stimulate the body's natural ability to repair, heal, and regenerate cells. This enhances cellular turnover — in other words, it promotes the growth of new, healthy cells. 
In addition, Neo Elite also encourages the body to increase its own production of collagen, which is one of the main substances responsible for keeping skin firm, elastic, and wrinkle-free. 
The number of treatments patients need always depends on several different factors, including the scope of the melasma, the number of areas that will be treated, and whether other treatments will also be given at the same time.
The Best Melasma Treatment in Lubbock, TX
If you're ready to see how easy melasma skin treatments can be, reach out to us at Glo & Spa-rkle Aesthetics and MedSpa in Lubbock, TX. Book your melasma treatment consultation today!