Beat the Dry Heat with Nourishing HydraFacials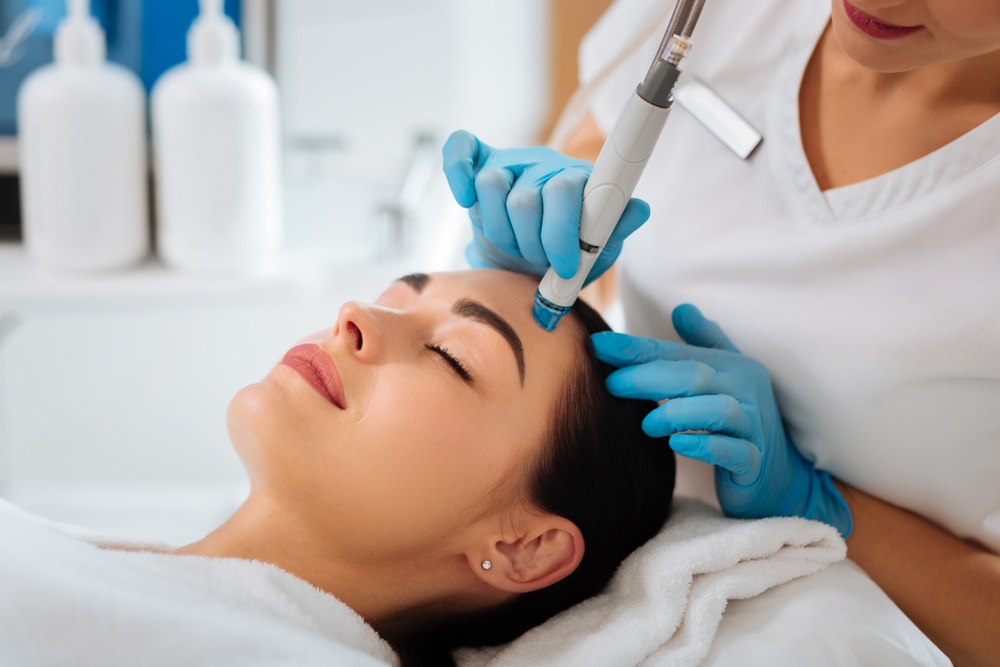 As the Texas weather grows hotter this summer, consider a HydraFacial. Lubbock, TX, experiences intense heat during the summer months, and a HydraFacial Lubbock treatment could be just what your skin needs. Repeated sun exposure means your skin gets thirsty and requires additional nourishment. 
What is HydraFacial? Keep reading to learn more about HydraFacial and why it's the perfect pampering option for your skin. 
What Is HydraFacial?
HydraFacial is a three-step process that exfoliates, nourishes, and protects your skin. The HydraFacial wand can infuse hydrating products into your pores while it removes dirt and debris. This is a dual-action facial that gets rid of impurities while leaving your skin smooth and soft. 
Cleansing and Exfoliation
The first step of a HydraFacial is cleansing and exfoliation. We clean your skin and use a special skin care tool to remove dead skin cells. With the old layer of skin removed, we can begin to work on your fresh new skin cells. 
Products will absorb better and your skin will be much smoother after exfoliation. It's important to exfoliate often so your skin can take in the nourishment and hydration from your skin care products. 
Skin-Safe Acid Peel
The second step in a HydraFacial is the peeling process. We apply acid that's safe and gentle on your skin. As the acid penetrates your pores, the top layer of your skin will start to peel. This gets rid of any leftover dead skin cells and acne-causing oils. After the acid peel, your pores will be ready to take in optimal hydration. 
Extraction and Infusion
This last step is what makes HydraFacial unique. The HydraFacial wand uses suction to extract impurities from your pores while it infuses hydrating serums. Both of these actions happen at the same time, preventing your skin from becoming irritated and sore. 
Traditional extractions can be painful and make your skin red afterward. With a nourishing HydraFacial, you get the best of both worlds: smooth, soft skin and clear pores. 
We finish off the HydraFacial by applying protective masks and serums to your skin. These products protect against environmental damage and soothe your skin. 
HydraFacial Benefits
You have to experience the treatment for yourself to fully appreciate HydraFacial benefits. You get all of the advantages of a normal facial with even more hydration and smoothing for your complexion. If you suffer from dry, oily, acne-prone, sensitive, or aging skin, the HydraFacial can improve your complexion. 
One of the major HydraFacial benefits is that the process is gentle on your skin. You don't have to worry about harsh ingredients or irritating extractions. The suction vortex technology in the HydraFacial wand is strong but not harmful to your skin barrier. 
This skin treatment is also universal — almost any skin type can benefit from getting a HydraFacial. There are no restrictions on who can get a HydraFacial as long as you have no active skin infections. 
Whether you have dark skin, fair skin, or any shade in between, your complexion will be glowing after your HydraFacial procedure is over. 
For patients with dry, rough skin, HydraFacial restores healthy moisture and nourishment. The serums we use protect against dehydration, sun damage, and aging so you can look and feel youthful and radiant. If traditional facials don't provide enough hydration, consider getting a HydraFacial instead. 
A HydraFacial isn't only rejuvenating, but it also gives you the chance to take a break from work and home life and focus on taking care of yourself. If you're busy and rarely make time for yourself, a HydraFacial could be just what you need for a skin — and mind — reset. 
Our office is quiet and peaceful, making it the perfect self-care destination. All you have to do is sit back and relax. 
HydraFacials for Different Skin Concerns 
Many patients wonder if a HydraFacial treatment is right for them. We can help you when you come to Glo & Spa-rkle Aesthetics and MedSpa in Lubbock, TX.  
Before your visit, consider the following information to start formulating your potential treatment plan. 
HydraFacials can benefit almost any skin type, tone, and concern you may have. The gentle but intense exfoliation gets rid of acne-causing dirt and oils, while the moisturizing serums restore softness to your skin. 
Sensitive skin types respond well to HydraFacials, especially when they're paired with skin care products designed for sensitive skin. The HydraFacial wand is not harsh or damaging to even the most sensitive skin. 
If you're looking for an anti-aging skin service, HydraFacial can help with this, too. We use anti-aging serums and masks during your HydraFacial to address wrinkles, fine lines, dullness, and dryness. All of these are normal signs of aging, but you don't have to live with them forever. 
Some skin treatments were traditionally only useful on lighter skin tones. HydraFacials are perfect for patients of any skin tone. No matter how much sun damage, aging, or pigment you have in your skin, a HydraFacial can rejuvenate and refresh your complexion. 
HydraFacial: Lubbock Edition
Those who live in or around the Lubbock, TX, area understand how drying and damaging the hot sun can be. Patients in Lubbock will notice a positive skin transformation with regular HydraFacial appointments. If you want the premium HydraFacial Lubbock experience, come to Glo & Spa-rkle Aesthetics and MedSpa. 
Our team is friendly and excited to help you with all of your skin concerns. Our goal is to leave you with a radiant, glowing complexion after each visit to our office. If you want to beat the Texas heat this summer, book an appointment for your first HydraFacial now.