Aerolase Neo Elite, Neo Clear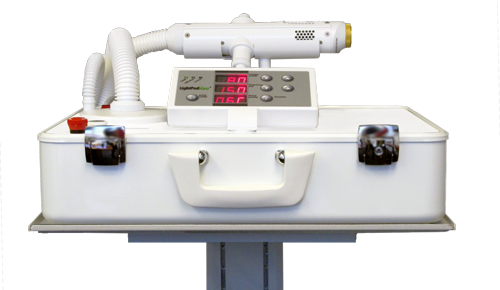 Everyone has skin challenges. Sometimes, skin challenges are as simple as a few pigment concerns or enlarged pores, and other times, skin concerns are challenging like melasma or chronic like acne. Understandably, when you have skin challenges, it can be difficult to feel hopeful about finally achieving your dream of beautiful skin. But at Sparkle, we know the key to beautiful skin can sometimes be found in the power of laser treatments such as Aerolase Neo Elite and Aerolase Neo Clear.
Introducing Aerolase Neo Elite and Aerolase Neo Clear
Laser treatments are all the rage in aesthetic clinics for a few reasons, such as being able to treat a variety of skin concerns. Both Aerolase Neo Elite and NeoClearare powerful, yet gentle laser systems that can be used on patients of every skin tone and skin type. These laser systems use advanced technology that can adjust the power of each treatment to meet every patient's unique skin goals.
What Does Neo Elite Treat?
The Neo Elite laser has been established as one of the gold standards for aesthetic lasers because of its revolutionary construction and technology. This laser combines high-powered, short-pulses of energy with advanced, targeted precision to deliver effective treatment for patients of all skin types and concerns. Unlike some other laser treatments, there is no need to use any numbing or skin cooling products to keep patients comfortable during the treatment, and the treatments themselves can be completed in less than 60 minutes.
The Neo Elite can treat an incredibly wide variety of skin concerns and can be used on virtually all areas of the skin, including small areas on sensitive parts of the body. Some of the most common uses for this treatment include:
Acne
Lesions
Melasma
Ingrown hairs
Pigmentation
Redness
Rosacea
Scars
Spider veins
Vascular lesions
Warts
Psoriasis
Fine lines and wrinkles
This laser system can also be used for hair removal, which will stunt and thin the amount of hair growing on any treated area of the body. The key to this laser system is the way the energy emitted by the laser device stimulates your body's natural regenerative ability, which will enhance cellular turnover, increase collagen production, and much more to perfect the appearance of the skin.
What Does NeoClearTreat?
The goal of the NeoClearsystem is to treat acne. First and foremost, this laser system was developed to treat all acne-related concerns, including active and chronic acne. This is unique to many other laser systems, which can't be used on certain types of acne or when acne is in certain healing stages. This laser, however, can effectively treat acne by killing acne-causing bacteria, reduce post-inflammatory hyperpigmentation, and stimulate collagen production to prevent future acne scarring.
Acne itself is a skin condition that can take many forms, from closed whiteheads and blackheads to excessive oil production to enlarged pores. Fighting against acne involves much more than drinking enough water and using acne-fighting products like benzoyl peroxide. With a laser system like Clear, you can fight all acne-related concerns, including:
Papular acne
Pustular acne
Comedonal acne
Cystic acne
Acne scarring
Post-inflammatory hyperpigmentation
Why Should You Use Clear for Acne?
Although both Aerolase Neo Elite and NeoClearcan treat acne, if you have continual acne challenges, then it might be better for you to use the Clear laser system since it has been specially designed to treat acne-related concerns. Using a laser system designed to address a specific skin concern can produce more ideal results, particularly if you have no other skin concerns that require laser treatment.
Moreover, the Clear laser system can be used on the body as well as the face. While the Neo Elite can also be used on the body, the scope of the laser is designed to treat smaller surface areas, which means that it may not be an efficient option if you want to treat larger areas of the skin where acne occurs, such as the torso and the back.
How Many Treatments Will You Need?
For any laser system, no matter what skin concern you are treating, it's likely that you will need several treatments to achieve your desired results. Naturally, the number of treatments you need will depend on your skin concerns and your current skin condition, as well as whether or not your condition is chronic, such as for acne and rosacea. Most often, an initial series of four to six treatments are necessary to achieve your desired results.
How Quickly Can You See Results?
Most patients will be able to see the results of their treatment very quickly. In fact, you will notice an initial improvement in the condition and appearance of your skin after the first one or two appointments, which is much faster than other laser systems. The speed of your results will again depend on your skin condition, as more severe concerns like scarring and severe dark spots will take several weeks to show significant results.
How Should You Maintain Your Results?
Maintaining the results of your laser treatment will ultimately depend on how well you take care of your skin. For some skin concerns, such as sun damage, spider veins, and dark spots, you can generally expect your results to last for as long as you can prevent future skin damage. In general, this means wearing adequate sun protection when you plan to be outside.
For the treatment of chronic skin concerns, like acne and rosacea, while laser treatments can effectively treat these conditions, the best way to maintain your results is to stay on top of your skin health. For acne, this means using acne-fighting products to prevent breakouts; for rosacea, this means avoiding any triggers that will cause a flare-up.
Get Perfect Skin With Aerolase Lasers
Laser skin treatments are powerhouse solutions to resolve several skin concerns, from simple uneven skin pigment to difficult chronic conditions. Both Aerolase laser systems are effective treatment options for patients with any skin tone and skin type. For fast and effective results, laser treatments can help you accomplish your aesthetic goals.